Miyuki Shiraishi, On Stage, September 26, 2014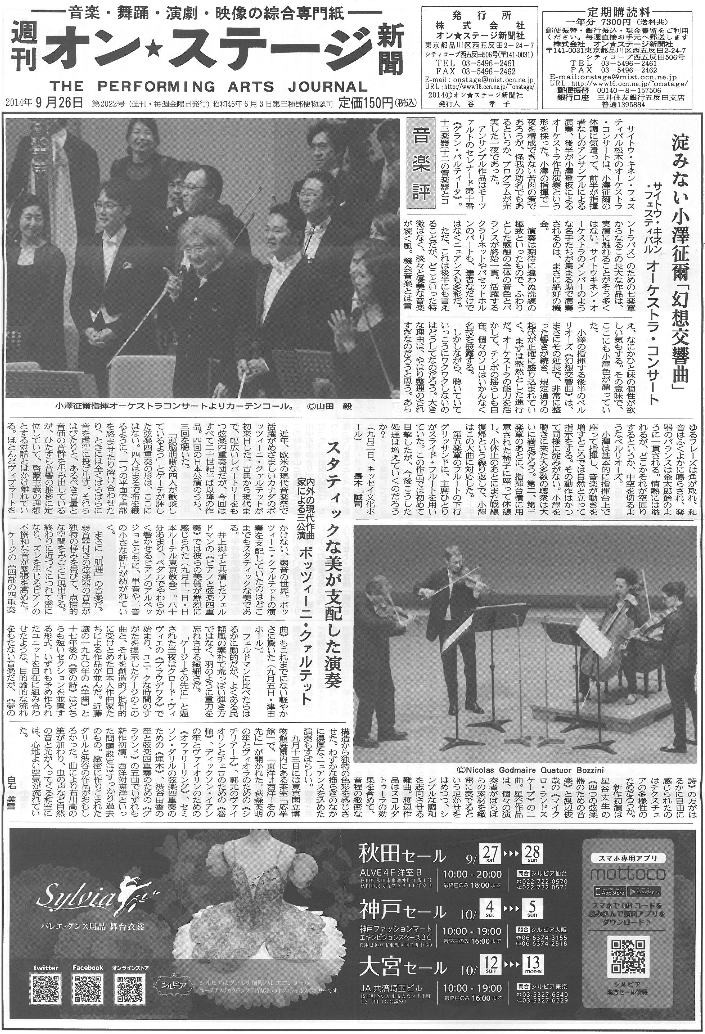 Canada's brilliant Bozzini Quartet, in recent years active at music festivals all over Europe and North America, have made their Japanese debut. The quartet has a wide repertoire ranging from the classics to the contemporary, but this tour focused exclusively on works from the second half of the 20th century on. They played four concerts in Japan, and I was able to attend three of them.
Goethe famously commented that a string quartet is 'four rational people conversing', but this quartet doesn't play in that manner. They are more like four people weaving, the four voices becoming entwined and melting together into a single surface, with occasional completely disconnected tones being thrown into empty space. They are tight, with perfect control of volume and tone production, but with a focus on modulating resonances — very far from the Enlightenment-era ideal. Their's is a vibrato-less, muted soundworld. The Bozzini Quartet give controlled performances of static beauty.
In Feldman's Piano and String Quartet, performed with Satoko Inoue, their playing had a vivid beauty (11 September, Japanese Luthern Tokyo Church). For about 80 minutes, delicately-pedalled piano arpeggios were woven together with fragments of sound from the quartet.
Moreover, this was 'textured' sound. Muted string colours were tinged with especial delicacy, pointillistically filling the space. As the end of the piece approached the texture thickened and the tension grew, with the piano beginning to play dissonant notes in the gaps.
Cage's String Quartet in Four Parts was surprising for its unprecedented lightness (5 September, Tsuda Hall).
Compared with the Feldman, this piece was much more dynamic, but this was in no way a rustic, folk-music style performance; its texture feather-light.
The evening was titled Cage and Beyond. Starting with Claude Vivier's Pulau Dewata, there was a unique lineup of Japanese composers to creatively and critically get to grips with. Jo Kondo's 1990 piece Fern, and Oeneiric Prosody written 17 years later, were both in the form of a succession of short sections. Both pieces sounded like an ateleological flowing assemblage of self-contained pre-composed musical units, but Oeneiric Prosody sounded more free, probably because of its greater diversity of textures.
There were also premières of Takeo Hoshiya's Music for Four String Instruments and Toshiya Watanabe's Micro-Landscape.
In Hoshiya's piece, each performer played disconnected, simple figures delicately, almost as if they were being held back; a difficult piece, yet with an intentionally simple harmonic structure. Watanabe's piece made effective use of scordatura, a structure of delicate tones and unique colours. The superb performance gave rich nuances to the piece's slight fluctuations.
On 13 September at the Tokyo National Museum's Ōkyokan tea house was 'East, West, and Beyond'. The programme was Hideaki Haginomori's Siciliana for shō and viola, Yuan Guo's The Space Between Two Parallel Lines for violin and cello, Ian Dickson's Offering for shō and violin, Daryl Jamieson's umoregi (if exposed…) for string quartet, and Yuka Shibuya's Ground for shō and string quartet; all five pieces were premières. The problem of East versus West is an old one. Jamieson and Shibuya's delicately-written pieces were especially interesting. The addition of Kō Ishikawa's shō, the buzzing of insects and other natural sounds, and the afternoon light filtering into the bamboo-floored Japanese-style room gave the concert a comfortable and relaxing atmosphere.
The superb performance gave rich nuances to the piece's slight fluctuations.